1969 Chevrolet Camaro Body Shell
Price: $13,500
BONUS: $500 Gift Card**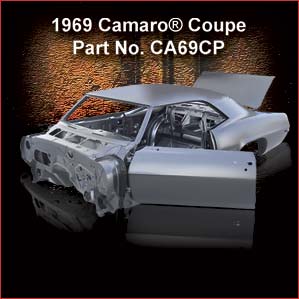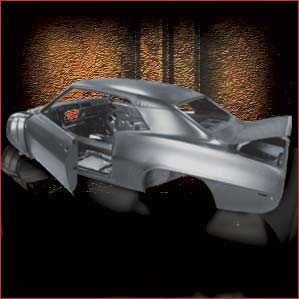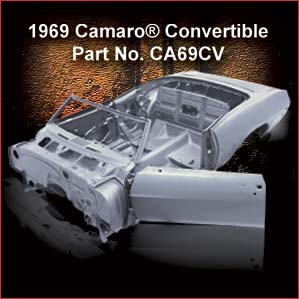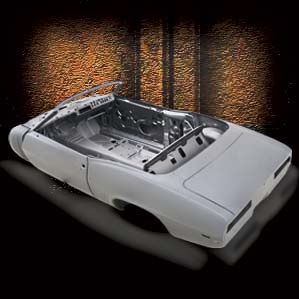 Licensed by General Motors!!
From the leading manufacturer of the finest reproduction parts
in the automotive industry comes the innovation of the decade.
We are pleased to announce the arrival of Dynacorn Classic Bodies Convertible Replacement Body Shell & Coupe Replacement Body Shell styled after the famous
1969 Camaro®. An Official Licensed GM restoration part completely welded from the firewall to the tail lamp panel and from the frame rails to the windshield frame.

**In addition, as our thanks to you, we will send you a $500 gift certificate from Muscle Car Metal/Just Sheet Metal which will allow you to purchase some of the other parts you will be needing at our incredibly low prices.

Body includes most of the structural parts, brackets and braces welded in place, plus doors and deck lid already assembled. Very little body work or adjustments are required and the hard part will be deciding on interior colors and keeping track of which bolt goes where.

Just think; no more cutting and welding in floor pans, no more trying to locate replacements for rusted out braces or struggling to make the wheelhouse line up to the trunk pan and the quarter panel. All the hard work is already done. New firewall (with or without factory air conditioning) to tail lamp panel; fitted, assembled and welded. How many hours (or weeks) does that save you? That's what makes this shell so cool.
Check what some of the national car enthusiast mags have been saying!
Muscle Car Enthusiast Magazine.pdf
SEMA Show Las Vegas
Article: "All-New Steel Replacement Bodies" - HotRod Magazine
If you have a rusty shell and you want to start fresh with a new one, we can help. We are an official distributor of the new "Dynacorn Classic Bodies" program.

You can now purchase a complete metal body. These bodies are made to factory specification. Each body is sealed and primed with a rust-preventative product prior to being crated for shipment.

These are GM licensed restoration parts completely welded from the firewall to the tail lamp panel and from the frame rail to the windshield frame.

These shells are not returnable. Due to the complex work and equipment needed to change a shell, we suggest a professional body or restoration shop to do the work.

This is drop shipped directly from the assembler to your door (forklift is required). This body is crated and shipped by common carrier, however pickup is available (San Bernardino, California).

---

Each body shell comes with a manufacturers certificate of origin.

Click here for State Vehicle Registration Information

Q: How do I know the welding will be adequate and up to industry standards?
A: Each shell will be welded with state-of-the-art welding equipment in one of the finest assembly plants in the United States. Our assembly partners have been in the restoration market for over 20 years and their work has never been questioned nor has any weld they have ever done failed. That's a pretty good record in itself.

Q: How easy is it to build?
A: This shell is complete so there is no necessity to find and weld parts other than what is required in the front end. It assembles on the sub-frame, so you don't even need a rotisserie. The actual building of the car will go easily, as there is no need to stop and align anything other than deck lids, doors, fenders and a hood.

Q:What about the VIN?
A: A Vehicle or Vessel Identification Number (VIN) is issued by a manufacturer or State Licensing authority. There are three ways for a vehicle to obtain a number:

An existing VIN on a vehicle that is titled in your name can be transferred to a repair part (as instructed by your State authority).

A number may be issued by your State to ID a custom built vehicle when it passes a safety and number verification inspection.

A licensed manufacturer issued a VIN when the vehicle (or vessel) is made and ready for delivery. This can only be issued when a "turn key" (completed) car, truck, boat or aircraft has been manufactured.

---
This is a complete body tub, extending from firewall to tail panel and includes the doors, trunk lid and the convertible top frame (on the convertible model). It does not include fenders, radiator support, or hood.
A/C options: (must choose one before ordering)
- firewall for factory-installed A/C
- firewall for standard heat only (no A/C)
- firewall for custom ventilation

ATTN: This is not a 100% perfect shell. Just as it were from GM 35 years ago, each shell that comes off the manufacturer's line will be slightly different from the one before it. It will require slight work once you put the remaining body pieces on it. However, your savings in time and money should far outweigh the cost of touching up this incredible piece (or pieces) of steel.
---
Pricing/Payment Information:
MSRP is $13,500 for Convertible Part # CA69CV with convertible top frame

MSRP is $13,500 for Coupe Part # CA69CP

Plus a Crating and Handling Charge of $495.00.

All Bodies are shipped F.O.B. Oxnard, CA; Freight Collect or you can make your own freight arrangements.
The excitement could be more than you can take.

All Dynacorn Replacement Body Shells are encased in raw-steel 2" x 2" tube cages w/ shoes for forklift transport.
These cages are welded and bolted to the bottom of the shell.
Prior to shipping, each shell and cage will be crated in particle board.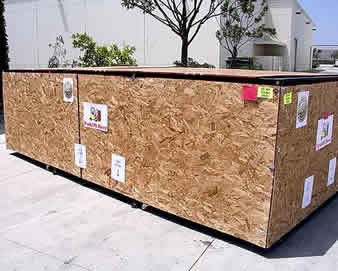 Please call our Sales Department for pricing and availability (toll-free 888-328-9527 ext 1)

Phone orders only. Payment by cashier's check, postal money order, or wire transfer. Please allow 30 days for processing of payment, and 30 days delivery, shipping could be anywhere from $600 - $1800 inside the lower 48 US, and is delivered in a steel crate. (Residential delivery is discouraged.)

---

Chevrolet, the Bowtie, Camaro, all related Emblems and vehicle model body design
are General Motors Trademarks used under license to Dynacorn Classic Bodies Inc.